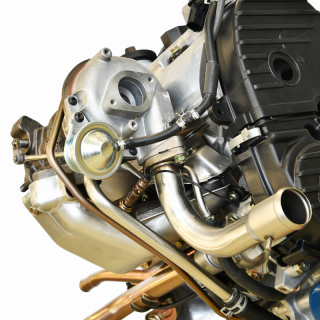 Buying a new car is always exciting because of the new car smell and the new engine feel, but this rarely lasts for long. In order to keep being excited to drive your car, many people have upgrades done to their engines.

When you are trying to decide what upgrades are worth it, it is important to make sure that the upgrades are worth your money.
We are the only company in the U.S. that includes these upgrades in our remanufactured engines.
Upgraded internals includes:
3-layer head gasket

Upgraded new 8 MM timing chain and 8 MM tensioners
Newly upgraded timing actuator to fit an 8 MM chain
The timing chain guide & rails are upgraded to aluminum/plastic ( OEM is all plastic).
11 mm head bolts
Hatted triple coated sleeves/liners
Cadmium plated pistons
Anodized top rings
Phosphatized surface rings
Oversized reinforced main and rod bearings
A performance oil pump with thicker gauged oil lines to allow the correct amount of oil flow to the engine
A reinforced heat-treated metal bottom
New valve covers
Front & rear main seals, tube seals, VVT seals, timing cover inside and out seals, oil pan seal, valve cover seals.
Optional Add-Ons:
New OEM water pump package:

Water pump
Thermostat
Heater pipe
Hose from Heater Pipe to Throttle body
2 Hoses from the water pump to Throttle Body
2 Piece water outlet pipe
Water outlet pipe with extra o-ring from oil cooler to water pump
Remanufactured supercharger/turbo
Complete set of remanufactured injectors

We also provide our customers access to quality used Jaguar and Land Rover parts. We have many discontinued/back ordered parts in stock, so contact us to upgrade your engine today!
Our experts will have your Jaguar engine or Land Rover engine running good as new and probably even better!
Learn more about Jag-Land
to see why we're the real deal when it comes to upgrading your engine! Not only do we remanufacture engines, but we remanufacture transmissions as well!
Popular Engine Upgrades to Consider
1. Exhaust Headers
Getting air in and out of your cylinders is one of the most important things you can upgrade to optimize your engine performance. When you upgrade your exhaust headers, you are increasing the airflow to your engine and the exhaust gas out of your engine. There are two different types of exhaust header upgrades to consider, long tube headers and short tube headers.

Long tube headers are more expensive because they are more expensive to install, but they improve engine performance in the low to mid-range RPMs and also can increase your gas mileage.

Short tube headers are cheaper and easier to install, but do not have the same intake capabilities as long tube headers; however, these fit better in modern engines so they are often the more convenient option.
2. Induction System
In newer model cars, the induction system is usually very complex and efficient so there is little that you can upgrade and see much of a result. On the other hand, older cars do very well after the installation of a four-barrel intake manifold. This raises your engine's horsepower and is a relatively inexpensive upgrade.
3. Spark Plugs
An extremely important, yet very small, part of your engine is your spark plugs. These create a small spark to ignite the air and gas mixture in your engine to create power. If your spark plugs go out, then your engine will not start and it can cause more damage. To avoid this, you can install extended-life spark plugs, which run for about 100,000 miles. When you buy new spark plugs, the ones that use precious metals such as iridium and platinum are more expensive, but hold up to wear and tear better than typical copper ones.
4. Valvetrain
The camshaft is the most important part of your valvetrain, it opens and closes your intake and exhaust valves to make sure your engine runs smoothly. Upgrading this will open the door for even more modifications and also allows more air and fuel to enter your engine's combustion chamber which greatly improves your engine power.

When you are ready to upgrade your engine, our certified technicians are ready to assist you. At JagLand, we have many years of experience exclusively with Jaguar and Land Rover engines so we are experts in our field. If you have any questions or need help deciding which engine upgrades are right for you, feel free to call us and one of our expert team members will be happy to help!